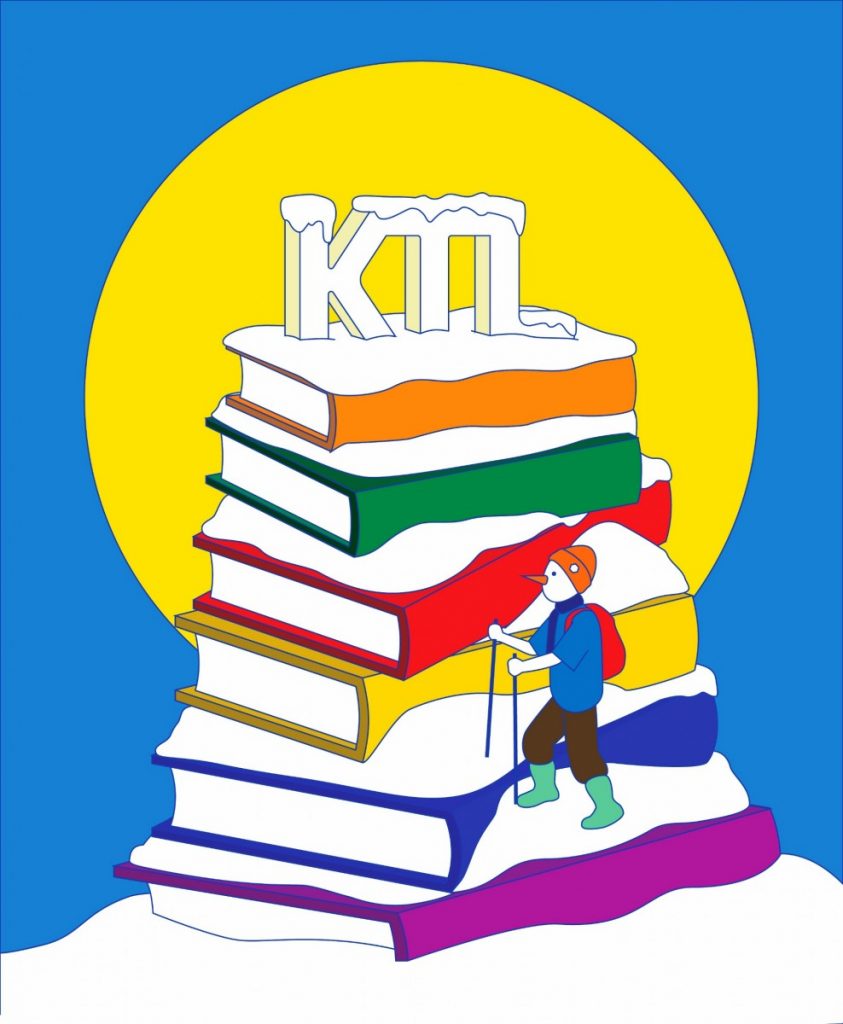 Welcome
Winters in Central New York can be long, cold, and snowy. The Kirkland Town Library is here to help pass the time until the spring sunshine with unique activities for all ages designed to bust your boredom.
How It Works
Download and print a board game or stop by the Library and pick up a paper copy.
Hop and skip along the game board's path, choosing the activities that you would like to do. The instructions for each activity are listed below.
On the board game, color in or check off the squares of the activities you complete. At the end of the month, bring your completed board back to the Library.
Everyone who does at least one activity earns this month's prize.
For each additional activity, you earn a ticket that can be redeemed in April for items on our prize board.
January Activities: Nourish
Activity 1: Borrow something from the KTL
Borrow a book or movie by visiting our building or through our curbside service. Everyone who checks out an item in this month will receive a special surprise!
The Library is open Monday through Thursday from 9 until 7:30 p.m.; Fridays from 9 until 5 p.m.; and Saturdays from 9 until 1 p.m. Check the homepage or our Facebook page for any weather-related closings.
If you prefer not to come inside, let us know what materials you would like; curbside service is available whenever the Library is open.
We also offer home delivery. Call us at 315-853-2038 or email us at clinton@midyork.org to be added to our delivery schedule.
Looking for suggestions and recommendations?
· Visit the Newest Arrivals page to see the newest items added to our collection.
· Search for a book you enjoyed on the online library catalog. Click on the link for "You May Also Like" and get recommendations of other books and authors.
· We post "staff picks" on our Facebook page.
Activity 3: Discover the benefits of meditation
Activity 4: Check out a nourishing book, audio book, or podcast
Nourishing can mean "promoting or sustaining life, growth, or strength." This could include books about psychology, cooking, gardening, spirituality, or whatever feeds your soul.
Check out this list of KTL staff recommendations or choose one of your own.
Picture Books for Kids
If I Had A Little Dream by Nina Laden
Our Little Kitchen by Jillian Tamaki
Miss Rumphius by Barbara Cooney
You Matter by Christian Robinson
Last Stop on Market Street by Matt de la Peña
The Day You Begin by Jaqueline Woodson
I Am Every Good Thing by Derrick Barnes
If You Come to Earth by Sophie Blackall
Chapter Books for Kids
From the Desk of Zoe Washington by Janae Marks
The One and Only Ivan by Katherine Applegate
Ways to Make Sunshine by Renee Watson
Young Adult Books
With the Fire on High by Elizabeth Acevedo
Piecing Me Together by Renee Watson
Adult Fiction Books
Christmas at the Island Hotel by Jenny Colgan
The Curious Incident of the Dog in the Night-Time by Mark Haddon
Dandelion Wine by Ray Bradbury
Eleanor Oliphant is Completely Fine by Gail Honeyman
Non Fiction Books
· The Art of Happiness by the Dalai Lama
· The Beauty in Breaking by Michele Harper
· The Boy, The Mole, The Fox and The Horse by Charles Macksey
· Chicken Soup for the Soul books
· The Human Condition: Contemplation and Transformation
by Thomas Keating
· The Jesuit Guide to (Almost) Everything: A Spirituality for Real Life by Fr. James Martin
· Maybe You Should Talk to Someone by Lori Gottleib
· The Optimist's Telescope by Bina Venkataraman
· The Prophet by Khalil Gibran
· What Do You Want To Do Before You Die? By Jonnie Penn, Dave Lingwood, Duncan Penn & Ben Nemtin
Authors
Podcasts
· Chicken Soup For the Soul with Amy Newmark
· Dear Therapists with Lori Gottlieb and Guy Winch
· The Happiness Lab with Dr. Laurie Santos
· On Being with Krista Tippett
· Oprah's SuperSoul Conversations
· She Explores with Gale Straub
· Unlocking Us with Brene Brown
Learn about podcasts and watch a video with step-by-step instructions.
Activity 5: Sign up for the .5K
Our third annual Point 5K Run/Walk takes you 1/3 of a mile from "where the sidewalk ends" (the Clinton Cider Mill) to where "everything else begins" (the Kirkland Town Library).
You can walk, run, stroll, hop, skip, or roll your way along the route. The event is on Saturday, January 30 at 9 a.m.
Sign up now! Register online at here or stop by the Library to pick up a paper registration form.
Activity 6: Share a recipe
Share your favorite comfort food recipe with us either by typing it in the form below, dropping it off in person, or by emailing it to clinton@midyork.org. (Photos, website links, copies, and handwritten recipes are all gratefully accepted.) We'll compile them all into a cookbook that will be distributed later this month.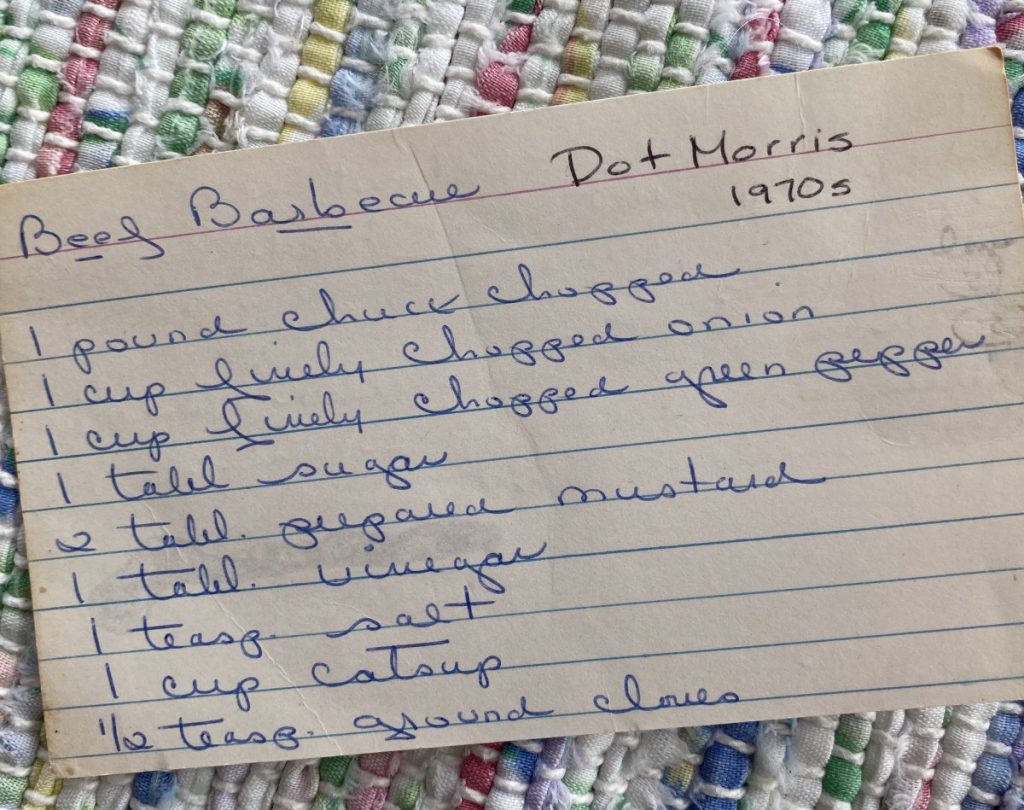 Activity 7: Borrow a board game
We have a brand new collection of board games that you can borrow!
Activity 8: Get some exercise at home
Activity 9: Play "Nailed It"
Follow one of these recipes to make a cute snack. When you're done, take a photo and share it with us by emailing it to Clinton@midyork.org or texting it to 315-938-8310.
Just like the television show "Nailed It," we'll compare your creation to the original and see if you met the challenge.
Activity 10: Build a snowman
Create a snowman in your yard and send us a picture. At the end of the month we'll let our patrons vote for their favorite and the winner will win a snow-related prize. You can email your photo to clinton@midyork.org or text it to 315-938-8310.
Activity 11: Make an outdoor ornament
Activity 12: Read a food magazine on RB Digital
Activity 13: Borrow a puzzle from the Library
Our puzzle exchange is packed with free puzzles from easy-to-assemble kids to 1,000 piece jigsaws. Take one or leave one; they are free to all.
The puzzle exchange is located in the vestibule by the main entrance and curbside pick up area.
Activity 14: Try yoga or Zumba
Local instructors have invited our patrons to some special yoga and Zumba classes this month.
Kids/Family Yoga with Sara Miller
Live on Zoom on Monday, January 18 at 11 a.m.
This class is geared toward kids ages 2-7 but is fun for the whole family. In this class, you'll find nourishment for mind and body through breath, movement and a book, calming breath work, positive affirmations, songs and dance, sun salutations, and partner or family poses,
Pre-register by calling 315-853-2038 or emailing rgilbert@midyork.org; a Zoom link will be provided to all those who registered.
Zumba with Helen Dick
Wednesdays and Fridays at 3:15 p.m. on Zoom starting Jan. 11
Pre-register by emailing helen8dick4@gmail.com or calling 315-853-1844. Helen will message participants with the meeting ID and password.
Activity 15: Make a bath bomb
Starting on January 18, stop by our curbside pick up area to get the supplies you need to make a relaxing bath bomb. Use it to relax and unwind or gift it to a friend. While supplies last.
Activity 16: Train for the .5K
Every race needs a training plan, even if it's only 1/3 of a mile. Try our very own "Couch to Point 5K" training program.
Download a copy here or pick up a paper copy at the Library.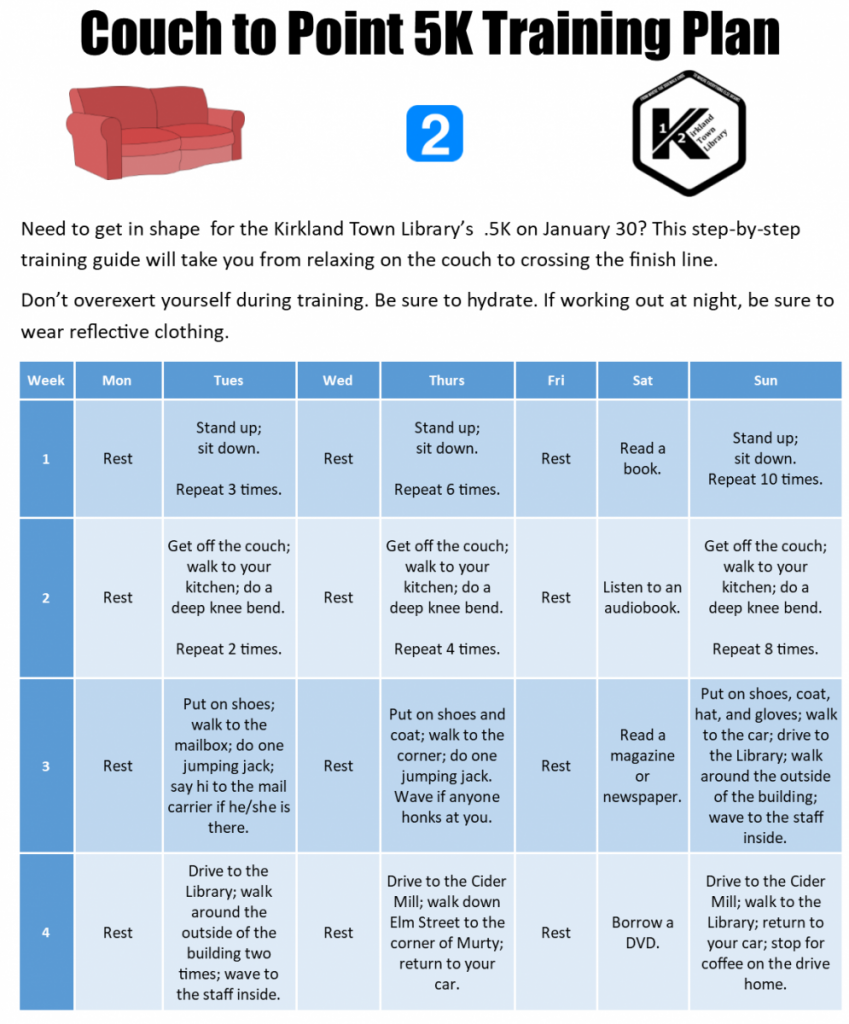 Activity 17: Get organized with bullet journaling
Bullet journaling is a fun way to combine creativity and organization.
Starting on January 25, stop by our curbside pick up area to get some supplies and instructions for how you can get started creating your own bullet journal.
Activity 18: Learn about massage
A self-massage can help you alleviate tension, increase your circulation and lower your stress level. There are a few easy and free ways you can give yourself a basic self-massage at home.
First, find a relaxing spot. Choosing a favorite chair or spot on the couch can help you unwind even more. Turn off the television, silence your cell phone, and hang a "do not disturb" sign on your door. You might choose to light a candle, put on some favorite music, or even turn off the lights. You might choose to use a lotion or cream with a soothing scent.
Start with your head, neck, and shoulders. Squeeze the base of your neck with one hand, moving it upward, squeezing, and releasing as you go. Use both hands to move your fingers in a circular pattern, rubbing the base of your skull, moving down your neck, and along your shoulders. Move your fingertips in small circles along your whole head. Let your thumbs move along the bottom of your scalp near your neck.
Give your hands a massage by rubbing all the fingers of your left hand with your right with a circular motion that moves from the base of the finger to the tip, focusing on the joints. Try gently pulling each finger. Then, put your thumb on the palm of your hand and your fingers on the back. Make a circular motion, rubbing the pads of the fingers, the fleshy part between the thumb and wrist, and anywhere else needed.
Get a tennis ball and sit in a chair. Roll the ball gently beneath each foot, rolling it under the arch, along the outer edge, and under the toes and heel. Then, try doing the same motion while standing up.
(Massage tips adapted from Canyon Ranch.)
Check out these videos for more tips:
DIY Self Massage for Pure Relaxation, Self Care, How to, Neck Pain, Headaches, Stress Relief
60 Second Acupressure Self-Massage Techniques for More Energy, Headache Relief, and Inner Balance
Activity 19: Pick up a packet of word games
We created some literary-themed word games and compiled them into a brochure that is available to be picked up at Kinney Drugs, CVS Pharmacy, Hannaford, and the laundromats in Clinton and Clark Mills.
Activity 20: Count up your squares
Tally up the number of activities you have completed and bring your completed board back to the Library. Everyone who does at least one activity earns this month's prize. For each additional activity, you earn a ticket that can be redeemed in April for items on our prize board. The fun continues with more activities in February and March.