Teen Lit Bag
Teens age 13-18 can sign up to receive a Teen Lit Bag full of goodies from the library! You'll receive two library books, exotic snacks, and more! Click here to request one.
---
Reading Buddies
Sign Up Now
Meets on Mondays,
July 25 and August 1, 8 & 15 at 6 p.m.
Teens (Big Buddies) will meet with elementary-aged kids (Little Buddies) to share books and encourage a love of reading.
Little Buddies
We're looking for elementary students who are learning to read independently and who want to get some extra practice with a fun reading partner! Complete our online application by July 18.
Big Buddies
We're looking for middle and high school students who like to hang out with younger children and want to encourage a love of reading!
Big Buddies should be entering grades 6-12 in the 2022-2023 school year.
Big Buddies will have one orientation session on July 25 at 5:30, before your Little Buddies join you at 6 p.m. You'll meet with them on Monday evenings at the library to read and do other fun activities together.
Fill out our online application by July 18.

---
Summer Reading Program:
Oceans of Possibilities
June 23 – August 20
Visit the Library to sign up and get your reading log. You can also download a reading log here.
Then, start reading! Keep track of the time you read and mark it on the reading log. When you've filled in all the boxes, you've read 10 hours and completed our reading challenge. Fill out the reverse side of your log, bring it back to the library, and you'll earn a gift card to Cremeria, the Clinton Cider Mill, Utica Bread, or Vit-Za Pizza. 
We also have lots of fun activities planned. Sign up for our weekly e-newsletter for updates or check back here.

---
Clinton Challenge
happening now
Readers are invited to join us as we challenge patrons of the North County Branch Library in Clinton, New Jersey, and the Clinton County Libraries in Pennsylvania to see who can read the most this summer!
All you have to do is keep track of how long you spend reading each week. Download a reading log, grab a paper copy from inside the KTL, or use your own method.
Every Friday from June 3 through September 2, let us know how long you've read during the week. You can email your total to clinton@midyork.org, snip this week from your reading log and drop it off, or fill out this handy online form. We'll tally the minutes and see how we stack up against the competition.
Everyone who reports their time will be entered in a raffle to win fun prizes at the end of the summer.
For readers ages 12 and up.
Let's show everyone that Clinton, New York loves to read!
Week 3 Results
As of June 21, Clinton County, PA has taken the lead with 405 hours. The KTL is close behind with 395 hours, followed by the 2021 runner-up North County Branch Library in Clinton, NJ with 178.
Click here to watch the official video from KTL Sports.
---
Mid York Road Trip
happening now
Visit as many of our 44 unique libraries as you can in June, July, and August as part of the 2022 Mid York Library Road Trip!
Road trip to libraries as a family, or grab your friends and create a team. You might even set up your own Road Trip Challenge among friends – who can visit the most libraries?
Whether you travel in a pack or go solo, you'll earn prizes when you've visited 5, 15, 30, and 44 locations. Each of our libraries has its own unique architecture, vibe, events, and collection – so the real reward is experiencing them.
To get your Road Trip started, pick up a map at any library. Then plan your itinerary for visiting any or all of our 44 community and neighborhood libraries.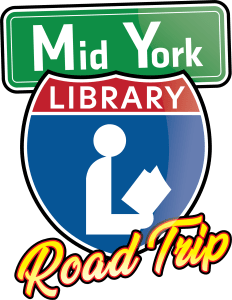 ---
MLA Citation Guides
From OWL Purdue
General:
Quick Links:
Or try Bibme, a citation generator.
---
 Stop by after school to play the Game Cube or PS2 with your friends!