Book Club 101
Tuesday, July 27 at 6 p.m.
Retired Clinton High School English teacher Debby Hepburn will lead a lively discussion about World of Wonders: In Praise of Fireflies, Whale Sharks, and Other Astonishments by Aimee Nezhukumatathil. This debut work of nonfiction is a collection of essays about the natural world, and the way its inhabitants can teach, support, and inspire us. For high school and college students. To get a copy of the book and RSVP to the conversation, call us at 315-853-2038 or send us an e-mail.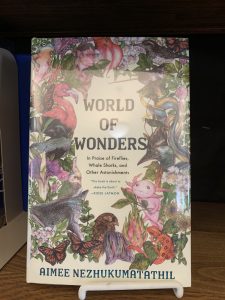 ---
Tech Workshops
Join us this summer for a series of free, 45-minute workshops for all skill levels. To provide personal assistance, space is limited. To sign up, call 315-853-2038 or e-mail clinton@midyork.org.
34 Fun and Helpful Websites
Monday, July 26 at 11 a.m. or
Wednesday, July 28 at 5:15 p.m.
We'll share a variety of free websites to help you plan, organize, and communicate better at home and at work.
Google Drive 101
Monday, August 2 at 11 a.m. or
Wednesday, August 4 at 5:15 p.m.
Learn the basics of how to use Google Drive to create and share documents, spreadsheets, and presentations.
Design Anything with Canva
Monday, August 9 at 11 a.m. or
Wednesday, August 11 at 5:15 p.m.
Learn how to make posters, invitations, greeting cards, social media posts, and more on this free and easy-to-use website.
Microsoft Word Basics
Monday, August 16 at 11 a.m. or
Wednesday, August 18 at 5:15 p.m.
Learn how to create and format documents using Microsoft Word.
Basic Internet Safety & Security
Monday, August 23 at 11 a.m. or
Wednesday, August 25 at 5:15 p.m.
Learn tips for keeping yourself and your devices safe online.
---
Bingo
Tuesdays, July 13 to August 10 at 11 a.m.
It's simple: play bingo and win books and other fun prizes! For all ages.
---
Outdoor Movies
Wednesday, august 4, 11, 18 & 25 at 8 p.m.
Join us outside under the stars for a movie. Free! Bring a chair and your own snacks. Thank you to Lisa M. Lester, DDS, PC, General Dentistry for their support of this program.
August 4 – Moana
August 11 – Little Women
---
Connect With Your Government
Thursday, August 5 at 6:30 p.m.
Meet and chat with the local officials who work diligently on our behalf. Hear what they've been working on, ask questions, and enjoy refreshments. Young people are encouraged to attend! Featuring Senator Rachel May, County Legislator Chad Davis, County Legislator George Joseph, Mayor Elizabeth Tantillo, and more guests TBA.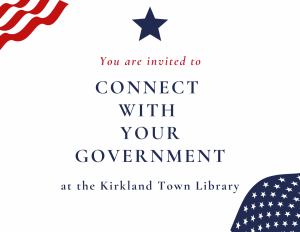 ---
Connecting Communities Book Talk
Wednesday, August 11 at 6:30 p.m.
Join Professor Sam McManus in a conversation about The Water Dancer by Ta-Nehisi Coates.
Participants are also welcome to join an in-person or online conversation hosted by the Utica Public Library on Tuesday, August 24 at 6:30 p.m. Professor McManus will lead a conversation on The Underground Railroad by Colson Whitehead. Click here to sign up for the event at the Utica Public Library and receive a Zoom link. (No registration is required for the 8/11 event at the Kirkland Town Library.)
Copies of both books are available at the KTL; call 315-853-2038 or e-mail clinton@midyork.org to reserve a copy.
---
Live Concert by The Five Families Ensemble
monday, August 16 at 6:30 p.m.
The Five Families Ensemble, directed by Monk Rowe, stretches the boundaries of the traditional chamber ensemble by combining sounds from each of the four instrument groups (brass, woodwinds, percussion and strings) with a fifth contribution from the human voice. Their repertoire is arranged specifically for the group and ranges from Beethoven to Brubeck to the Blues, as well as original compositions. The Five Families Ensemble appeals to audiences of all ages by combining stellar musicianship with an engaging and welcoming attitude.
Members of the Five Families are, Tom McGrath (percussion); Nick Fields (trumpet, baritone horn & vocals); Monk Rowe (woodwinds and keyboards); Kristen Kopf (cello); and Liz Simchik (violin & vocals). Free! All are welcome.
---
Teen Lit Bag
Teens age 13-18 can sign up to receive a bag full of goodies from the library! You'll receive two library books, a craft, snacks, and more! We'll offer one in July and one in August. Click here to sign up anytime during the month:
---
Summer Reading 2021
June 28 – August 20
Tails & Tales program
Visit the Library to sign up. Sign up by July 12 and get one raffle ticket to enter to win two tickets to Water Safari!
Start reading! Keep track of the time you read and mark it on one of our paper reading logs. You can pick one up at the Library or download a copy of the reading log for teens (ages 13-18). When you've filled in all the boxes you've read 10 hours and completed our reading challenge!
If you prefer, you can track your time online using READsquared. Click here to get started.
When you're done, bring your completed log back to the library to enter our prize raffle. 
Clinton versus Clinton Challenge
In addition to the Tails and Tales program, readers of all ages are invited to join us as we challenge fellow readers at the North County Branch Library in Clinton, New Jersey to see who can read the most this summer!

Keep track of how long you spend reading each week. You can use your Tails and Tales reading log (see above), download a "Clinton Versus Clinton" log, stop in the KTL or use your own method.

Every Friday through August 20, stop in the KTL to report your time or send us an email. We'll see how we stack up against the competition.

Let's show everyone that Clinton, New York loves to read!
---
Empire State Trail Virtual Challenge
Now through July 31
Get fit this spring and summer by *virtually* running, walking, biking or hiking across New York State on the brand-new Empire State Trail. This is a virtual challenge and miles can be logged in any location from the actual trail itself to the treadmill or stationary bike in your basement or gym. 

However and wherever you compile your mileage, simply report your progress back through the event website and watch your digital avatar travel along your chosen leg of the Empire State Trail. As part of team KTL Books It, you can see how we stack up against other active enthusiasts across the Empire State, country and world. In last fall's Empire State Race-Off, we came in second place!

The registration fee is $25 for one leg of the trail and $5 for each additional leg. Enter code ESTC21 and get $5 off your registration! You can log your miles now through July 31.

Click here for all the details and to sign up. When you register, be sure to say "yes" when asked if you'd like to create or join a team. On the next page, search or select "KTL Books It."

Thanks for joining the Kirkland Town Library in this fun community event!
---
MLA Citation Guides
From OWL Purdue
General:
Quick Links:
Or try Bibme, a citation generator.
---
 Stop by after school to play the Game Cube or PS2 with your friends!