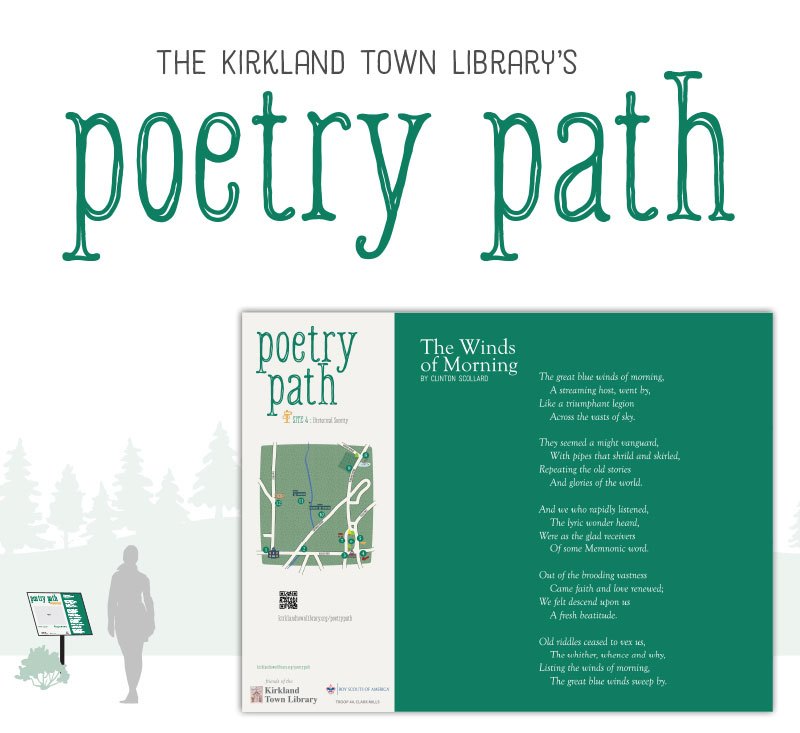 The Poetry Path is a self-guided route of 12 sites within a ½ mile of the Kirkland Town Library.  The entire loop is a 1.5-mile walk, on which you can savor the unique way poems connect us to places, community and each other. Several of the poets have local connections, adding to the Path's appeal. Follow the map to each outdoor location and enjoy poems chosen for their resonance with a specific Village of Clinton locale. Plus, it's always open – as long as there is enough light to read!
SITE 1: Kirkland Town Library:  Library by Valerie Worth
SITE 2 : Chenango Canal: Along the Chenango Canal by Dorothy Forsythe Dale
SITE 3 : Stone Presbyterian Church:  Pied Beauty by Gerard Manley Hopkins
SITE 4 : Clinton Historical Society:  The Winds of Morning by Clinton Scollard
SITE 5 : Kirkland Art Center: Criss-cross by Naomi Guttman
SITE 6 : Village Green: The Oak by Alfred Lord Tennyson
SITE 7 : Park Row: Passers-by by Carl Sandburg
SITE 8 : Clinton Arena: Ice by Gail Mazur
SITE 9 : Old Burying Ground:
When I am dead, my dearest by Christina Rossetti
SITE 10 : Clinton Elementary School:
The Swing by Robert Louis Stevenson
Playgrounds by Laurence Alma-Tadema
SITE 11 : Clinton High School:
Outside the Lines by Chloe Ford (CCS '16)
Take Enlightenment by Jack Murphy (CCS '15)
SITE 12 : Clinton Cider Mill: To Autumn by John Keats
Opened in August 2016, The Poetry Path is the 2016 Eagle Scout Project of a member of Troop 44, Clark Mills. Funding for the Path was generously provided by donors and The Friends of the Kirkland Town Library. The Town of Kirkland and Village of Clinton boards, as well as the Clinton Historical Preservation Commission were instrumental in the project's completion.
If you enjoyed walking the Poetry Path, visit the Root Glen on Hamilton College's campus which contains some 65 species of trees, dozens of shrubs and scores of varieties of flowers, and The Path at Sunset Hill on Grant Road, a meditative outdoor environment that weaves together many elements, including woods, open spaces, a bridge, a shelter and a labyrinth.