Outdoor Movies
Friday, September 25 at 7 p.m.
"The House With a Clock In Its Walls"
(rated PG)
Join us for an outdoor movie in our parking lot.
Bring a chair and your own snacks. Space is limited to 50 people; set-up begins 45 minutes before showtime.
Attendees are expected to maintain physical distance and wear a face mask (except when sitting).
Park on College Street, Elm Street, or at Clinton Central School.
---
National Voter Registration Day
Tuesday, September 22
Stop by the library all day to pick up a packet of everything you need to register to vote. We'll also have all the forms you need to apply for an absentee ballot. Thanks to a special donation, if you return your completed forms to the KTL, we'll pay for the postage and put it in the mail for you.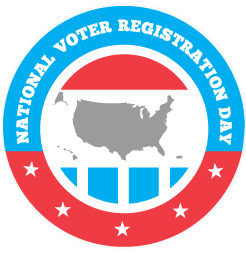 ---
Connecting Communities
Thursday, Sept. 24 at 7 p.m.
Nancy Rabinowitz, Professor of Comparative Literature and Creative Writing Emerita, Hamilton College, will lead a conversation focused on a better understanding of racism in the United States.
Participants will read three articles before the conversation and then discuss them as a group. Offered by Hamilton Employees Against Racism (HEAR) with support from the Kirkland Town Library and Utica Public Library.
Click here to sign up and get links to the readings. Zoom login information will be emailed to participants before the program.
---
Empire State Race Off
registration open until october 11
Join our Empire State Race Off team!
KTL Books It
Then, all log your walking, running, and hiking and help us support our community. The program ends on October 31.
Proceeds benefit the United Way. A discount is available for participants
under 18 years old; ask us for the coupon code.
We created a 1.9 mile route to get you started! Click here to download and print a copy.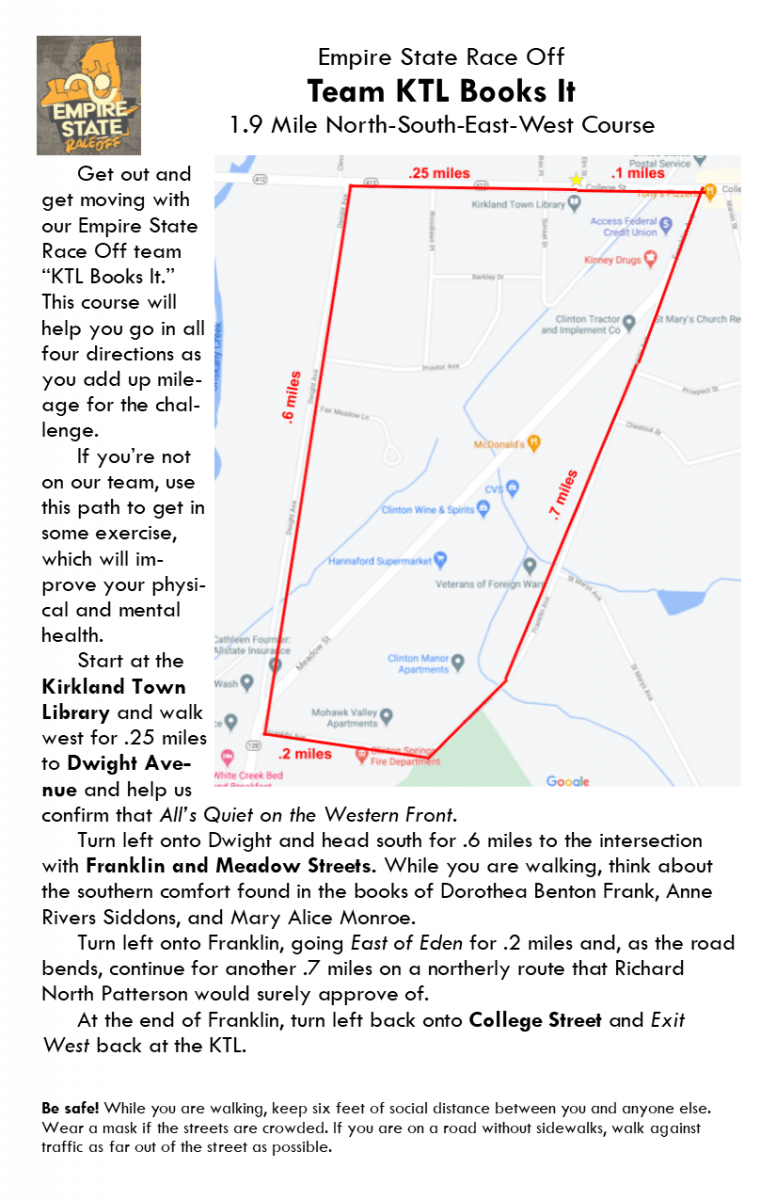 ---
Read Around The Calendar
Throughout the month of August 2020, we had volunteers read the first chapter of a classic book and then posted the video on our YouTube channel.
Choose a video then sit back, relax, and listen to a story.
---
Take our 2020 Reading Challenge
The Kirkland Town Library staff is challenging patrons to a reading challenge! Click here to download the version for adults.  (Visit the Teen and Children's programs pages for other versions.)