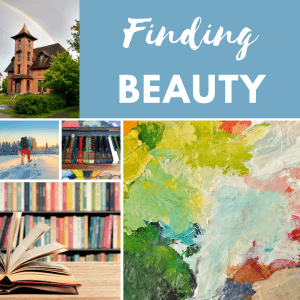 This winter, we want to help you discover the beauty around you: in nature, art, music, books, and more!
Throughout February and March, we invite you to try twenty different activities that will have you visiting the KTL, getting out in the community, spending time at home, and much more.
How it Works
We came up with twenty activities to help you find beauty this winter. They are all listed on the game board and below. To get a copy of the game board, stop in the KTL or click here to download and print one at home.
Many of the activities involve visiting the KTL but some can be done at home or in your neighborhood.
Once you've completed an activity, come back to the KTL and we'll give you a sticker to cover the corresponding square on the game board. As you complete more activities and earn more stickers, you'll start to see a beautiful image.
Here's a sneak peek at what one participant's game board looks like so far!
If you complete at least ten activities, you'll win a special prize.
Everyone who completes all twenty can enter a raffle for a chance to win an even bigger prize!
Be sure to finish up by March 31. We'll hand out all the prizes during the first week in April.
The KTL is filled with books about art and music! Visit the non-fiction shelves and look for books with a call number in the 700s.

If fiction books are more your speed, here are some suggestions:

For kids:

Opposites Abstract by Mo Willems
Love By Sophia by Jim Averbeck
Woodpecker Girl by Chingyen Liu
Art & Max by David Wiesner
The Art Lesson by Tomie DePaola
Pokko and the Drum by Matthew Forsythe
Drum Dream Girl: How One Girl's Dream Changed Music by Margarita Engle
Picasso and the Girl with a Ponytail by Laurence Anholt
From the Mixed-Up Files of Mrs. Basil E. Frankweiler by E. L. Konigsburg
Chasing Vermeer by Balliett Blue
Jukebox by Nidhi Chanani

For adults:

Georgia: A Novel of Georgia O'Keefe by Dawn Clifton Tripp
Loving Frank by Nancy Horan
The Last Mona Lisa by Santlofer, Jonathan
Punching The Air by Ibi Aanu Zoboi
Girl with a Pearl Earring by Tracey Chevalier
The Art Forger by B. A. Shapiro
Pillars of the Earth by Ken Follett
Any by Laura Morelli (The Stolen Lady, The Night Portrait)
Luncheon of the Boating Party and Girl in Hyacinth Blue by Susan Vreeland
Lust for Life by Irving Stone
Swan Thieves by Elizabeth Kostova
The Goldfinch by Donna Tartt
Girl Reading by Katie Ward
Picture of Dorian Gray by Oscar Wilde
Cooking for Picasso by Camille Aubrey
I Always Loved You by Robin Oliveira
Relic Master by Christopher Buckley
Bel Canto by Ann Patchett
Nocturnes : Five Stories of Music and Nightfall by Kazuo Ishiguro
The Song of the Lark by Willa Cather
Visit from the Goon Squad by Jennifer Egan
Jazz by Toni Morrison
Swing Time by Zadie Smith
Station Eleven by Emily St. John Mandel
Daisy Jones & the Six by Taylor Jenkins Reid
Songs in Ursa Major by Emma Brodie
In addition to a fantastic collection of books, the KTL also has its own unique collection of art that hangs on the walls throughout the building. The pieces convey a variety of subjects from landmark buildings to local scenes to significant events in the life of the community. They are done by painters, photographers and textile artists who either lived in Clinton or have a special connection to our town.

If you stop to see the art in person, stop by the circulation desk to pick up a copy of the scavenger hunt and see if you can locate some of the pieces.

If you want to look at the art from home, you can see the collection online by clicking here. After you look at the art, you can take an online quiz to test your knowledge.
Listen to the beauty of words by watching a video from our "Read Around the Calendar" collection. Click here to choose one.

Younger players might enjoy watching and listening to one of these picture books being read aloud:

It Fell From The Sky by Terry Fan and Eric Fan

Ish by Peter Reynolds

Penguin Problems by Jory John
Every week this winter we'll have a new project for you to make at home. Adult projects are available starting on Wednesdays and projects for kids are available starting on Fridays. While supplies last!
Stop by the KTL to see our poetry board. Write a poem yourself, copy down a favorite from a book, or use the markers to share some beautiful words.
Look through our collection of compact discs, check one out, and listen to some music.

If you don't have a CD player and want to listen online, check out our Spotify playlist of songs about books and libraries. If you think of other songs, let us know and we'll add them! Just search Spotify for "Books & Libraries" or click here:
NOW OPEN

Stop by to see art pieces contributed by community members and visitors, artists and hobbyists, adults and children! Displays change regularly as people drop off their creations so you never know what you will find in this micro 3×3 gallery! Come by to see art, take what you like, or leave us a small piece to share with others. Art supplies are available in the "basement" of the Art Gallery. Free means free (just leave the little gallery furnishings and easels, please). Enter by climbing the stairs at the main entrance to the library.
Take fifteen minutes to sit quietly and see what your imagination can do. Pick a peaceful and beautiful place at home or outside.
From February 14 through March 11, take a walk around the village and read Big Snow by Jonathan Bean.

A map of the route will be available soon!
Borrow an Empire Pass to visit a New York State park or a pair of snowshoes and get outside and into nature. Or, go for a walk with a friend and tell them about a book or a movie you recently enjoyed.
Stop in the KTL to pick up an art postcard and stamp. Then, send it to a friend to remind them of why they're a beautiful friend. Our staff can help you look up your friend's address if you'd like!
Pick up a copy of the newest Walking Club map and take a 1.2 mile stroll around the Village of Clinton and check out all of the colors along the way. Copies of the route are available at the KTL or click here to download a copy.
Stop by the display at the KTL to choose a book about an art or craft; we'll provide you with some of the supplies you need to get you started.

We also have a selection of starter kits so you can try origami, crochet, or knot tying.
Stop in the KTL to pick up a bookmark. Color the back and use it in your latest read.
Look through your family photo albums and talk with your loved ones about some beautiful memories.
Stop by the front desk and tell our staff about a book you recently read and enjoyed. We'll share everyone's picks in a display at the KTL.
19 – Watch a movie.

Check out a DVD from our collection or attend one of our afternoon movies. Need ideas? Here are a few movies about artists and musicians that you can find on our shelves.

A Star Is Born
At Eternity's Gate
Big Eyes
Coco
Collateral Beauty
Girl With a Pearl Earring
The Goldfinch
How Art Made the World
Judy
Leonardo da Vinci
The Longest Ride
Maudie
The Maltese Falcon
Mr. Turner
The Muppets
Ray
Sing
Soul
Winslow Homer: An American Original
Woman In Gold
Yesterday
At the Kirkland Town Library, you can see "Small Hands, Big Art," pieces created by students at Clinton Methodist Preschool, St. James' Day School, and St. Mary's Preschool. This show will be on view through February 11.

Starting February 21 and running through the end of March, the Utica Art Association will have their annual show on view in the Bristol Room at the Kirkland Town Library.

The Kirkland Art Center is showing "Activist Stitches: Quilts by Thomas Knauer" through March 5.