Clinton Challenge
happening now
Readers are invited to join us as we challenge patrons of the North County Branch Library in Clinton, New Jersey, and the Clinton County Libraries in Pennsylvania to see who can read the most this summer!
All you have to do is keep track of how long you spend reading each week. Download a reading log, grab a paper copy from inside the KTL, or use your own method.
Every Friday from June 3 through September 2, let us know how long you've read during the week. You can email your total to clinton@midyork.org, snip this week from your reading log and drop it off, or fill out this handy online form. We'll tally the minutes and see how we stack up against the competition.
Everyone who reports their time will be entered in a raffle to win fun prizes at the end of the summer.
For readers ages 12 and up.
Let's show everyone that Clinton, New York loves to read!
Week 4 Results (Posted June 27)
It's getting hot outside and so is the competition! Clinton County, PA, and the Kirkland Town Library are practically neck and neck while Clinton, NJ is looking to rally and leave us both in the dust.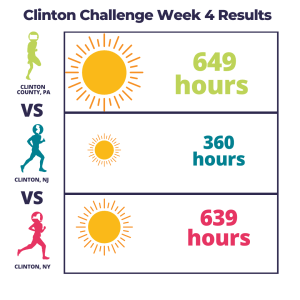 ---
Mid York Road Trip
happening now
Visit as many of our 44 unique libraries as you can in June, July, and August as part of the 2022 Mid York Library Road Trip!
Road trip to libraries as a family, or grab your friends and create a team. You might even set up your own Road Trip Challenge among friends – who can visit the most libraries?
Whether you travel in a pack or go solo, you'll earn prizes when you've visited 5, 15, 30, and 44 locations. Each of our libraries has its own unique architecture, vibe, events, and collection – so the real reward is experiencing them.
To get your Road Trip started, pick up a map at any library. Then plan your itinerary for visiting any or all of our 44 community and neighborhood libraries.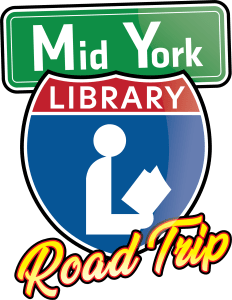 ---
In Full Bloom: Art by Karen Collins
Now on View in the Bristol Room
Opening reception on Thursday, June 16 from 6-7:30 p.m.
Meet artist Karen Collins and see her exhibit of bright and vibrant paintings. Refreshments will be served. The show will be on view throughout the month of June.
---
Chair Exercise Classes
Mondays & Thursdays at 9:15 a.m.
June 2 through July 28
Get the day started with a low-impact workout. All equipment is provided. Space is limited. Contact the KTL to sign up; call 315-853-2038, email clinton@midyork.org, or stop in.
The class is currently full.
Contact us to be put on the waiting list.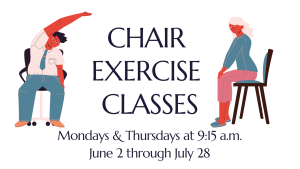 ---
Visit Us at the
Clinton Farmer's Market
Wednesdays, June 16 through August 25 on the Village Green from 11 a.m. until 1 p.m.
Stop by and say hello to us at the Clinton Farmer's Market on the Village Green. We can help you with any tech questions you might have, show you how to use Libby, or tell you about what's happening at the KTL.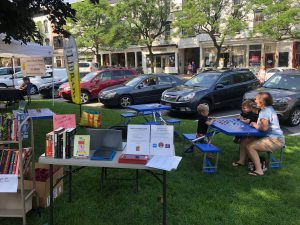 ---
Bike Repair Workshop
Wednesdays, June 29 and July 6 & 13
from 6-7:30 p.m.
This class is full.
Please contact us if you'd like
to be put on the waiting list.
Bicyclists interested in learning new skills or honing their abilities can attend a three-session workshop focused on learning the proper maintenance and repair skills related to the three major systems of a bicycle.
Participants are encouraged to bring their own bicycle to the workshop and will work in teams of two individuals, with sessions focused on the following:
Class #1 (June 29): Tires & Tubes – Installation, Repair and Replacement
Class #2 (July 6): Brakes – Installation & Adjustment
Class #3 (July 13): Drivetrain – Gears, Shifters, Cables, etc.
For adults, college, and high school students; younger children are welcome with an adult. Space is limited. To reserve a spot, email clinton@midyork.org or call 315-853-2038. Presented by Utica Bike Rescue.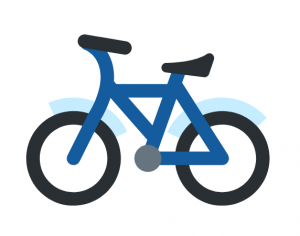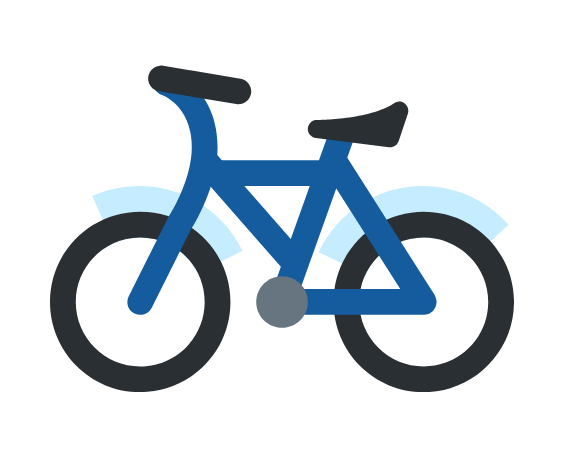 ---
Afternoon Movies
Join us upstairs to watch a movie together on the big screen.
Tuesday, June 28 at 2 p.m. – The Tiger Rising
Tuesday, July 5 at 2 p.m. – Father Stu
Tuesday, July 12 at 2 p.m. – Fatherhood
Registration is NOT required.
---
Tech Time
Mondays from 10 a.m. until 1 p.m. and Wednesdays from 11 a.m. until 1 p.m.
Bring all your tech questions and get one-on-one help. Find solutions you need to just about any kind of problem: setting up a Kindle, tablet, or phone; using Facebook; checking e-mail; printing documents; and much more. If this time doesn't work for you, call us to set up an appointment.