Afternoon Movies
Tuesdays at 2 p.m.
Join us upstairs to watch a movie together on the big screen.
October 11 – "Where The Crawdads Sing" – A woman who raised herself in the marshes of the Deep South becomes a suspect in the murder of a man with whom she was once involved. -IMDb
October 18 – "Paradise Highway" – A truck driver has been forced to smuggle illicit cargo to save her brother from a deadly prison gang. With FBI operatives hot on her trail, Sally's conscience is challenged when the final package turns out to be a teenage girl. -IMDb
October 25 – "Brian and Charles" – After a particularly harsh winter Brian goes into a deep depression; completely isolated and with no one to talk to, Brian does what any sane person would do when faced with such a melancholic situation. He builds a robot. -IMDb
Registration is NOT required.
---
Art Exhibit
Now on view in the Bristol Room
The newest exhibit in the Bristol Room gallery is "Double Vision," photographs by Maria and Mia Peycke. The show will be on view through October 31.

---
Chair Exercise
Mondays and Fridays at 9:30 a.m.
October 14 through December 19
Get the day started with a low-impact workout. All equipment is provided. Space is limited. To sign up, stop in, call us at 315-853-2038, or email clinton@midyork.org.
---
Responding to Opioid Overdose
Monday, October 17 from 5:30-7:30 p.m.
If you witnessed an opioid overdose, would you know what to do? In this training, you'll learn how to save a life during an overdose situation and become part of the solution to solve the opioid crisis.
During the two-hour class, you will learn about the impact of overdose on the community, how to identify risk factors for an overdose, recognize when it's happening, the five essential steps to follow, and how to use Naloxone to save lives.
Space is limited; to sign up, stop in the library, call us at 315-853-2038 or email clinton@midyork.org.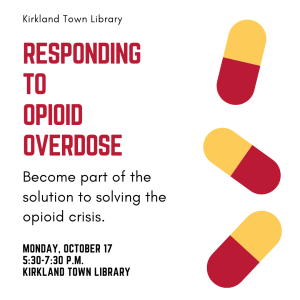 ---
1920s Murder Mystery Escape Room
Friday, November 4 at 6 p.m.
Adults ages 21 and up are invited for an evening of cocktails and intrigue that will make even ol' Gatsby proud. Start the evening with cocktails at 6 p.m.; the mayhem begins at 6:30. Space is limited; sign up now. Call 315-853-2038, text 315-938-8310, or email clinton@midyork.org.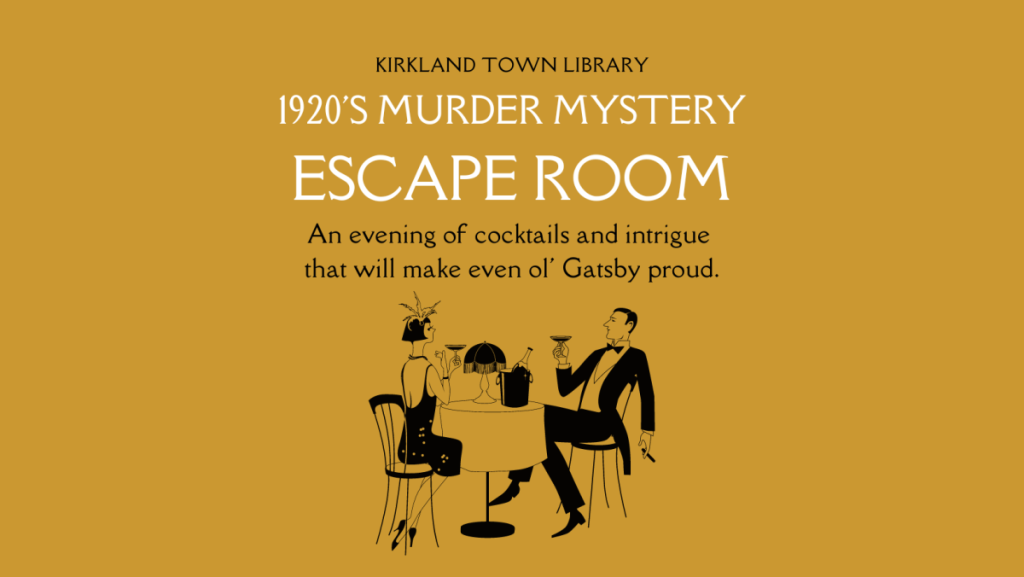 ---
Book Groups
Last Wednesday of the month at 7 p.m. and the second Monday of the month at 1 p.m.
All are welcome to attend our monthly book groups for an informal conversation on the monthly selection.
The Monday group will meet on October 10 at 1 p.m. to discuss The Devil in the Grove by Gilbert King.
This month, the Wednesday group is meeting on October 26 at 7 p.m. to discuss Sarah's Key by Tatiana de Rosnay.
Copies of the book are available at the library. Stop in, call, or email to reserve a copy.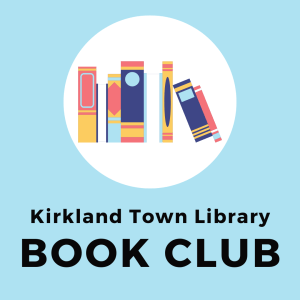 ---
Help us Give Families Warm Feet and Hands this Winter
Country Pantry needs socks and gloves for all ages and sizes to give to local families in need. Drop off your donations at the Kirkland Town Library now through October 31. This program is part of the Great Give Back, a day of service for public libraries.
---
Tech Time
Mondays from 10 a.m. until 1 p.m.
Wednesdays from 11 a.m. until 1 p.m.
Bring all your tech questions and get one-on-one help. Find solutions you need to just about any kind of problem: setting up a Kindle, tablet, or phone; using Facebook; checking e-mail; printing documents; and much more. If this time doesn't work for you, call us at 315-853-2038 to set up an appointment.
---