---
Limited Reopening Starts Monday, July 13
Starting on Monday, July 13, the Kirkland Town Library building will reopen to the public with limited access and strict measures to ensure the safety and wellness of our staff and patrons.
During the week of July 13, the Library will be open:
Monday & Tuesday from 9 a.m. until 1 p.m.
For children, teens, and their parents or caregivers only. We hope this special time will allow families to choose summer reading materials.
Wednesday from 9 a.m. until 1 p.m.
For those over 60 and people who consider themselves particularly vulnerable to the coronavirus.
Thursday & Friday from 9 a.m. until 1 p.m.
All are welcome.
Announcements about hours and parameters for future weeks will be announced on Thursdays.
Here's what you can expect:
In accordance with orders from the County Executive, everyone who enters the building must wear a face covering the entire time they are in the building.
The building's capacity will be limited to 25%; once capacity is reached, patrons can wait for a turn in a line outside the main entrance following physical distancing protocols.
Library restrooms will be closed to the public.
All seating has been removed.
Additional safety precautions:
Plexiglas shields have been installed at the check-out and reference desks.
Hand sanitizer will be available throughout the building.
An enhanced cleaning of the building will be done each evenin
Services Available:
Browsing and checking out library materials.
Reference, notary service, and tech support.
Copying, faxing, and printing.
A limited number of public computers available for one hour appointments on a first-come, first-serve basis or by advance reservation.
Curbside pick-up of library materials continues.
Online access to e-books and audio books through Libby; magazines and audio books through RB Digital. 
---
Kirkland Town Library Curbside Service Now Available
We are happy to offer curbside service and are committed to doing so in a safe manner for you and for our staff. We are following New York State guidelines as well as CDC and DOH recommendations.
Currently, we are closed to the public. The guidelines below will determine how we resume in-house library services and we appreciate your patience as those are put into place. Please check back here for updates.
Online resources including Libby and RB Digital are available for those looking for e-books, digital audio books, and magazines. For help accessing those resources, check out this video, call the library at 315-853-2038 or email clinton@midyork.org.
Anne Debraggio, Director
Step One: Let us know what you need
Give us a call at 315-853-2038. Staff are available from 9 a.m. to 5 p.m., Monday – Friday. Otherwise, leave a message on the answering machine.
Email us at clinton@midyork.org
Not sure what you want?
Give us a call at 315-853-2038. We're great at recommending books!
Pick up a copy of the latest issue of Book Page outside our main entrance. Or, read it online.
Note that you will only be able to reserve items owned by the Kirkland Town Library for pickup here. If you want items located at another library, you will need to make arrangements with that library to see if the item is available and to pick them up there. 
Step Two: Wait to hear from us
We'll call or email you when your items are ready to be picked up.
Step Three: Pick up your items
All materials will be at the main entrance. You must wear a mask and practice appropriate physical distancing when picking up your order. When you arrive, please abide by the signs to approach the front entryway so you can keep physical distance between others picking up orders.
Your order will be in a bag marked with the first three letters of your last name and the last four digits of your phone number. Items will be on tables sorted alphabetically by last name. Please do not touch any other order.
You will not have contact with staff – your materials will already be checked out and your receipt will be in your bag. If you have any questions during pick up, call the library at 315-853-2038.
If you are physically unable to walk to the library's entrance, please alert the staff when you make your order so that other arrangements can be made.
Still have questions? Let us know!
315-853-2038
clinton@midyork.org
22
Wed
All-day
10:30 am
Facebook Live Story Time
Facebook Live Story Time
Jul 22 @ 10:30 am – 11:00 am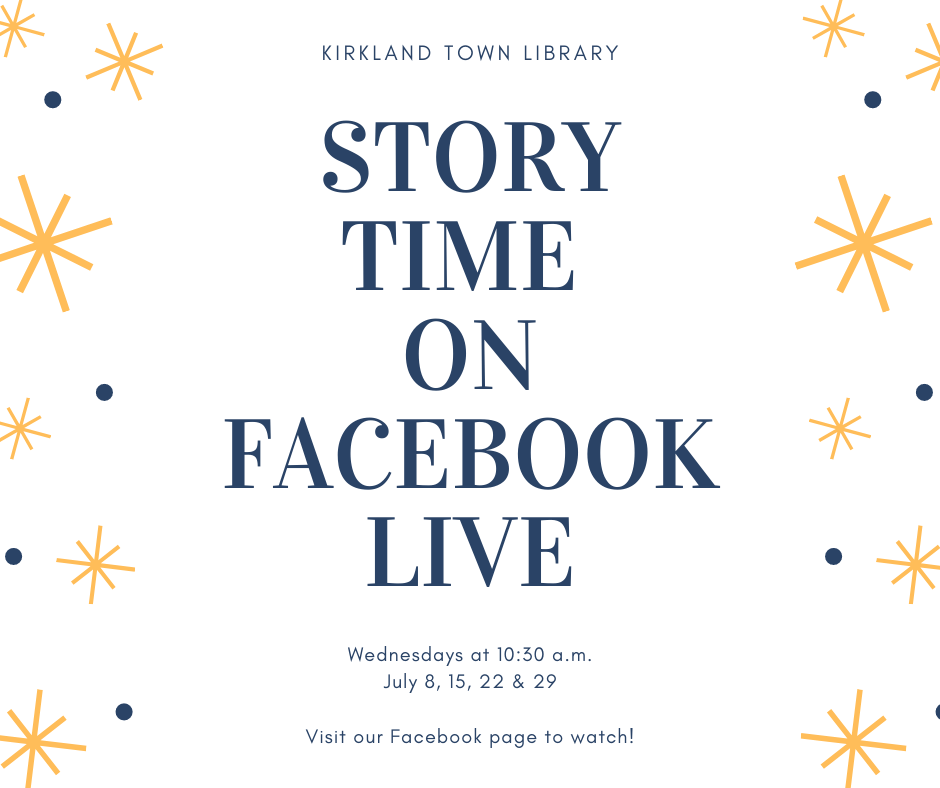 Join Ruth for an all ages story time broadcast on Facebook Live.