5th Annual Read Around The Clock
Our 24-hour reading marathon is back starting Wednesday, August 31 at 7 p.m. and ending Thursday, September 1 at 7 p.m.
Sign up now to read a short story (or two or three) or check out the event schedule and join us to listen.
27
Mon
All-day
9:15 am
Chair Exercise Class
Chair Exercise Class
Jun 27 @ 9:15 am – 10:00 am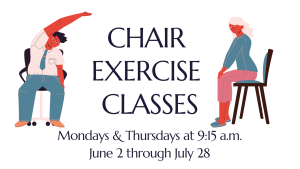 Get the day started with a low-impact workout. All equipment is provided. Space is limited. Contact the KTL to sign up; call 315-853-2038, email clinton@midyork.org, or stop in.
Computer Help
Jun 27 @ 10:00 am – 1:00 pm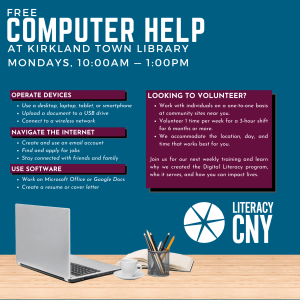 A volunteer from Literacy CNY will be at the KTL to answer all of your computer questions! Get help with operating devices (using a desktop, laptop, tablet, or smartphone; uploading a document to a USB drive; connecting to a wireless …
Continue reading