Read Around The Clock
Friday, August 23 at 10 a.m. until
Saturday, August 24 at 11 a.m.
It's back! Join us as we read for 25 hours on the library's front lawn. This year, we'll be reading some children's books as well as Harry Potter and the Prisoner of Azkaban, The Hitchhiker's Guide to the Galaxy, and The Martian Chronicles. Click here to sign up for a 15-minute slot. Or, stop by and listen.
22
Mon
All-day
2:00 pm
Monday Movie: "A Dog's Way Home"
Monday Movie: "A Dog's Way Home"
Apr 22 @ 2:00 pm – 3:00 pm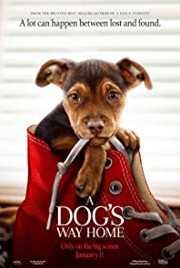 Man's best friend gets lost and meets interesting folks as he finds his way back home. Rated PG. Run time: 1 hour,  37 min.