Thank you!
Thank you to everyone who came out to run, walk, browse, visit, and enjoy our event on February 29! Here are just a few photos we wanted to share. If you participated in the walk and want to see more, email us at clinton@midyork.org.
.5K Run/Walk and
Mind and Body Fair
Saturday, February 29
Start the day with an optional
.5 K at 10:30 a.m.
We will walk, run or stroll one-half of a kilometer (about 1/3 mile) from "where the sidewalk ends" (the Clinton Cider Mill on Elm Street) to "where everything else begins" (the library). Registration fee is $5 per person with a $10 family maximum. Knit hats are available for $5 while supplies last. Park at Clinton Central School on Elm Street and meet at the Cider Mill. Pre-register at the library or download a registration form.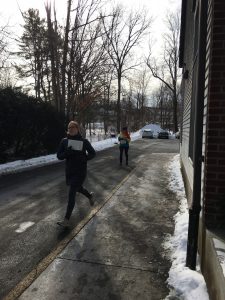 Join us for a variety of FREE mind and body classes at the library.
Yoga for Kids with Abby Stahl at 11 a.m.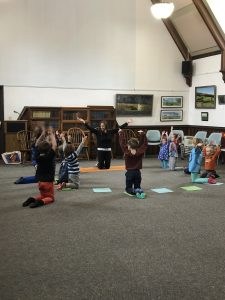 Yoga for Adults with Jodi Kapes from Soul Stop at 11:30 a.m.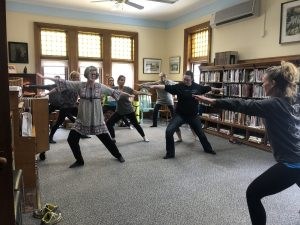 Tai Chi with John Bulson at Noon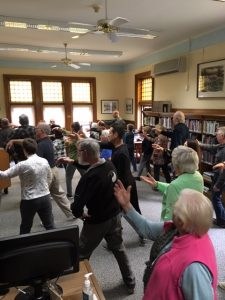 Life Satisfaction with Sarah Jillings at Noon
From the instructor: Imagine you were a social researcher charged with travelling the world to explore what contributes to an individual's sense of satisfaction with their life. What would you expect to find? This workshop highlights the research that social scientists have done concerning that very topic as well as the presenter's own research on satisfaction. Bring your curiosity and openness to experience to this interactive and informative workshop. You may just leave standing on the edge of possibility.
Introduction to Transcendental Meditation with Ron Sutphin
at 12:30 p.m.

Visit a variety of tables to get information for mind and
body wellness and participate in hands-on activities.
Art with Almost Local
Clay Play from Clinton Pottery
Clinton Death Cafe Information
Clinton Garden Club
Color our Collection
Fly Fishing Facts with Acee Acee
Genealogy Q&A with Yvonne Brady
Knitting with the Thursday Night Knitting Group
Knot Tying with Andrew Jillings
Make a Pom Pom for Your .5K Hat with the Stone Family
Reiki with Debbie Lindon
Tune Your Mind, Your Body and Your Bike with Soul Stop and Utica Bike Rescue