American Girl® Dolls
To learn more about the dolls, click here.
---
Summer Story Time
Wednesdays at 10am for all ages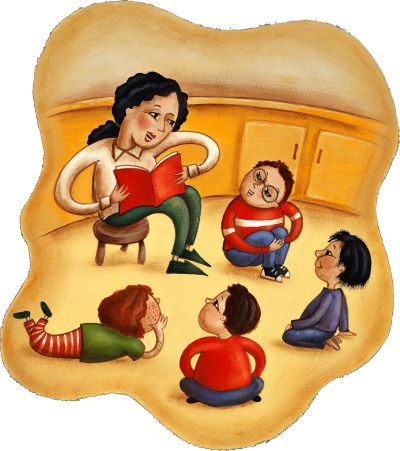 ---
Movie Science Mondays
A science themed movie every Monday at 10AM
July Themes                                        August Themes
7-7 SPACE                                             8-4 RAINFORESTS
7-14 BEES                                             8-11 OCEANS
7-21 EGYPT                                          8-18 DINOSAURS
7-28 MAGNETISM                             8-25 VOLCANOES
---
Stories on the Green
at the Farmers Market in Clinton at 12:30
July Themes                                        August Themes
7-10 PICNIC                                             8-7 JUNGLES
7-17 FLOWERS                                        8-14 OCEANS
7-24 BEES                                                8-21 TURTLES/FROGS
7-31 MONSTERS
---
Drop-in Science Fun
Anytime on Friday!
July Themes                                        August Themes
7-11 FINGERPRINTS                          8-1 NEWSPAPER CHAIR
7-18 INVISIBLE INK                           8-8 FLINKER
7-25 TRAITS                                         8-15 THAUMANROPE
                                                                8-22 REACTION TIME
---
Special Events
Make a Reading Journal
for the whole family
WEDNESDAY JULY 16 @6pm
Talons: A Bird of Prey Experience
WEDNESDAY JULY 23 @3
Make a Nature Book
for the whole family
WEDNESDAY AUGUST 13 @6
Puppet Making Workshop
Open Hand Theater (8-14 yrs)
Registration Required
THURSDAY AUGUST 21
Summer Sendoff
ICE CREAM SOCIAL and THE ZOO
WEDNESDAY AUGUST 27 2-4pm
---
HOOKED ON BOOKS!
This project is designed to promote literacy for preschoolers. The Project is made up of 1,000 books that are divided into 100 canvas bags, with each bag containing 10 different books. Parents sign out a bag for 2 weeks, read the books with their child, and return it for another bag.
The goal is for every child to read 1,000 books by age 6. Come in and sign up!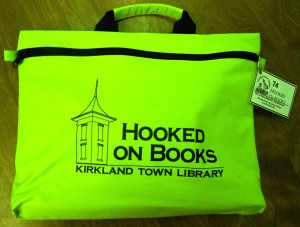 PORTABLE BOOKSHELF
This project is designed to promote the common core. Each bag has a specific subject and contains 4-6 non-fiction books on that subject. The average reading level is 3rd -4th grade.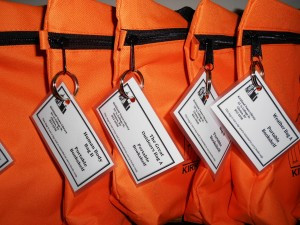 ---
Adirondack Museum Pass
The Kirkland Town Library is pleased to offer a chance to borrow our discount pass for The Adirondack Museum in Blue Mountain Lake. When you present this pass along with your library card at the Adirondack Museum's admission desk, you will be entitled to a 50% discount on admissions for you and your family up to 4 adults or 2 adults and any children under age 18! This pass is now available for check out.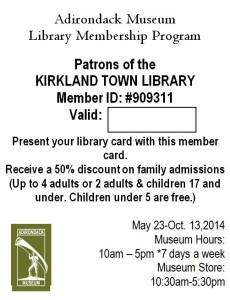 ---
Links and Extras
Check out Mensa for Kids!